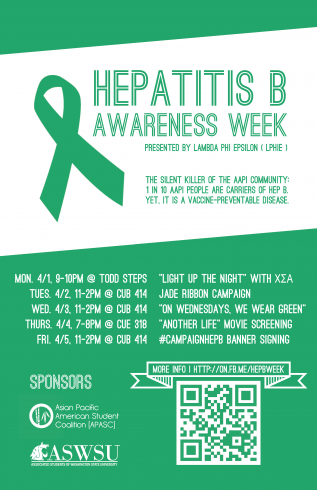 We are excited to launch our inaugural Hepatitis B Awareness Week on campus! Our local spring semester philanthropy project aids the Jade Ribbon Campaign through a series of events that raise awareness for Hepatitis B. 1 in 10 Asian American Pacific Islanders is chronically infected with Hepatitis B in comparison to 1 in 1000 Whites, making Hepatitis B one of the greatest health disparity affecting the AAPI community. Fortunately, Hepatitis is a vaccine-preventable disease. The objective of the Jade Ribbon Campaign is twofold: (1) to eradicate HBV worldwide; and (2) to reduce the incidence and mortality associated with liver cancer.
Considered to be the essence of heaven and earth, Jade is believed in many AAPI cultures to bring good luck and longevity while deflecting negativity. Folded like the Chinese character "人" (ren) meaning "people," the Jade Ribbon symbolizes the spirit of the campaign in bringing the Asian and global community together to combat the silent epidemic of Hepatitis B. This event is inclusive to everyone in the campus community!
Mon, 4/1 | "Light Up The Night" with ΧΣΑ
9-10pm, Meet at Todd Steps
Join us and the unstoppable sisterhood of Chi Sigma Alpha as we fill the night sky with floating Chinese sky lanterns to bring hope and wishes for patients living with Hepatitis.
Tues, 4/2 | Jade Ribbon Campaign
11-2pm, CUB 414
Bring out the activist in you! Stop by our table to learn more about the myths and dangers of the Hepatitis B virus and get a free jade ribbon pin to put on your book bag.
Wed, 4/3 | "On Wednesdays, We Wear [Green]"
11-2pm, CUB 414
Stop by our table at the AAPI Center to buy Lipton iced green tea for $2 or mint-flavored pastries for $3. Wear green all day to promote our cause and get an extra treat at our table!
Thurs, 4/4 | "Another Life" Movie Screening
7-8pm, CUE 318
Join in our pizza and popcorn movie forum night! Educate yourself with a documentary viewing of the virus. Know the basic ABCs of Hepatitis: it affects more people than you think.
Fri, 4/5 | #CampaignHepB Banner Signing
11-2pm, CUB 414
Now that you have a better understanding of Hepatitis B, sign our banner to promise educating your peers about the virus. You can also promote the cause online: #CampaignHepB.
Facebook Event | http://www.facebook.com/events/186321781515810/