Fall 2013 Recruitment
22 Aug 2013, Posted by Rush
in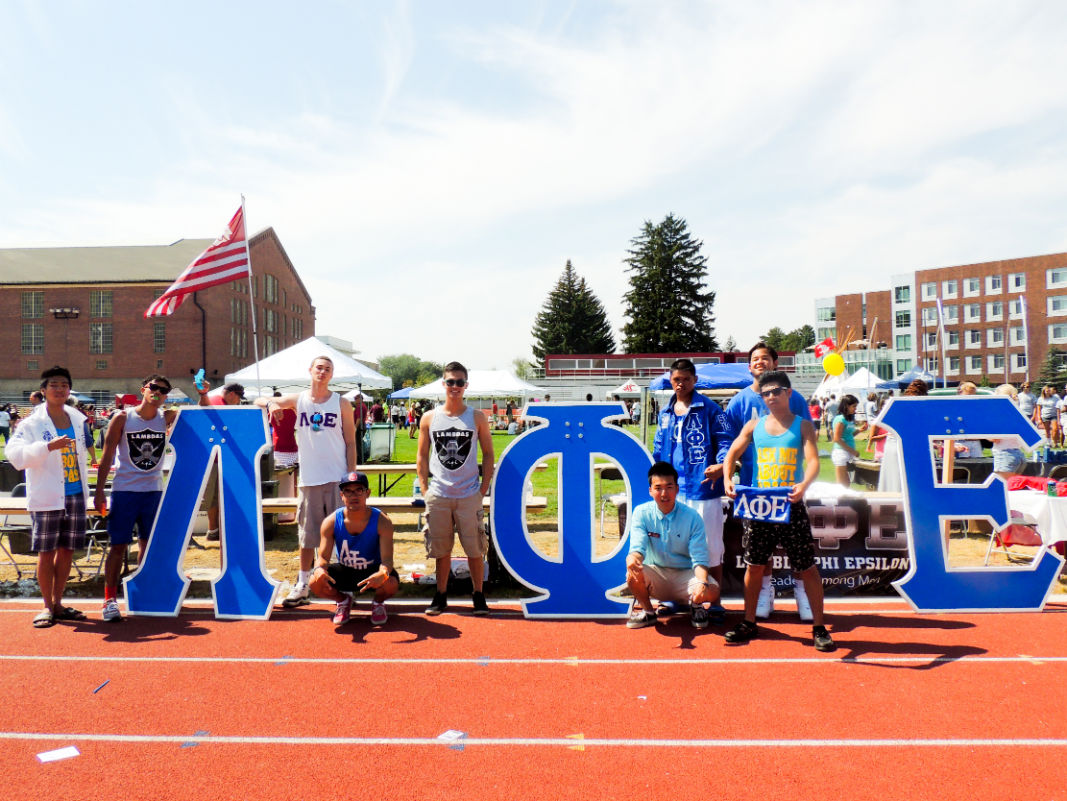 We encourage all interested gentlemen with a passion for success and excellence to come to our recruitment events to learn about Washington State University's FIRST and ONLY Asian Pacific American fraternity on campus.
► Fri, Aug. 16th at 11 am | Tabling at All Campus Picnic
Interested in Going Greek? Stop by our table to talk one-on-one with brothers of Lambda Phi Epsilon and learn how you can be part of the brotherhood. We'll also be handing out fliers and freebies for all students to grab.
► Fri, Aug. 16th at 9 pm | *Pong Tournament
Put your skills to the test. Can you rise to the top and claim it all? The last man standing will earn bragging rights to celebrate their victory. We'll be mixing with the ladies of Chi Sigma Alpha to show you a good time.
► Sat, Aug. 17th at 1 pm | Welcome Back BBQ | Top of Terrell Library
Relax on the scenic roof and enjoy the weather. Grub on some delicious food with the brothers of Lambda Phi Epsilon and the sisters of Chi Sigma Alpha. Join us for this collaborative event!
► Sat, Aug. 17th at 9 pm | *Back to School Party
Start the year off with a night you'll never forget. The brothers at Washington State welcome all returning students to party up the new academic year! Special guests: Chi Sigma Alpha.
► Sun, Aug. 18th at 3 pm | Tabling at Conexion Fair | CUB
Visit our table to learn how Lambdas impact the Asian American and Pacific Islander community at large. Promoting cultural awareness is important to our mission.
► Mon, Aug. 19th at 7 pm | Info Night #1 | CUE 319
Meet the brothers of ΛΦΕ and learn what separates our brotherhood from the rest. Speak with current brothers and spark corporate connections.
► Tues, Aug. 20th at 7 pm | Info Night #2 | CUE 319
Couldn't make it to the first Info Night? Come through and learn how Lambdas epitomize the values of brotherhood, leadership, and philanthropy to impact the community and university.
► Wed, Aug. 21st at 12 pm | Tabling at Student Involvement Fair
Join us in Cougfest, a completely free, outdoor celebration to kick off the school year. Soak in the live music, interactive games, and student involvement fair.
► Wed, Aug. 21st at 7 pm | Field Day | Student Recreation Center
Ready for School? Teach a lesson out on the field and scrimmage with our brothers and earn your bragging rights.
► Thurs, Aug. 22nd at 5pm | Game Night | CUE 319
Do you have a competitive edge? Then prove to it Lambdas and ChiSigs. Bring your skills and luck out for a night of games. Winner takes all.
Think you have what it takes to be part of Lambda Phi Epsilon at WSU? Now's your chance to show what you can do under the spotlight. Interested students are encouraged to attend at least one info night and two other events of their choice to qualify for an interview. Bids to join are competitive, so come out and get to learn more about Lambda Phi Epsilon.
* Meet in front of Todd Steps 5 minutes before each event.
Questions? Please feel free to contact us:
Email | wazzulambdas@gmail.com
Website | http://wazzulambdas.com/
Facebook | http://fb.com/wazzulambdas
Twitter | http://twitter.com/wazzlulambdas
ΛΦΕ Colony Chapter Pullman, WA Est. 2013
10,000+ MEMBERS. 57 CHAPTERS. 3 LETTERS. 1 BROTHERHOOD. JOIN ΛΦΕ.
LAMBDA PHI EPSILON
OFTEN IMITATED NEVER DUPLICATED
UPHOLDING STRENGTH, HONOR AND BROTHERHOOD SINCE 1981.