3-on-3 Basketball Tournament
15 Jun 2013, Posted by Athletics
in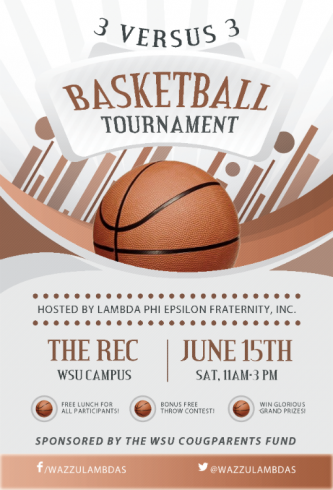 Come and compete in Lambda Phi Epsilon's 1st Annual 3-on-3 Basketball Tournament! The winner takes home a $75 grand prize! Winner of the free throw contest will win $25! Bring your 3 (or 4) best players to try and take home the cash. Co-ed teams allowed. Refreshments and lunch will be provided for all participants!
Tournament Rules:
4 members max allowed on one team
First team to score 21 points wins (no win by 2)
Scoring system: counted by 1's and 2's
Refs will call fouls and violations
Single or double elimination will be determined by number of teams entered into tournament
Losers out after each made basket ( no make it take it)
The ball must be taken back to the 3 point line after every change of possession (missed shot or turnover)
Each player is allowed 6 individual fouls before fouling out and not being allowed to play
Free Throw Contest Rules:
Best of 10 straight free throws
Once 10 straight attempts are started, they can not be "put off" or delayed, must be shot consecutively
20 seconds to shoot each shot
Jumping is allowed on shot as long as feet do not cross the free throw line when landing
Practice shots will be available
ALL RULES WILL BE REVIEWED BEFORE THE START OF THE TOURNAMENT AGAIN.
Follow the link below and list your team members and contact information to be officially singed up. You will receive a message after signing up to confirm your registration. Liability waivers will need to be signed the morning of the tournament. Sponsored by WSU CougParents Fund Program.
Facebook Event | http://www.facebook.com/events/133314330200831/